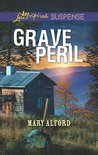 Grave Peril
by
Mary Alford
My rating:
5 of 5 stars
The beauty of this book cover caught my attention immediately and then, in the very first sentence of chapter one, I saw the word Louisville. Could it be Louisville, Kentucky? It was and my interest in this new book by Mary Alford became even stronger. Grave Peril is the story of Jamie Hendricks, a public defense lawyer who is met with an unending nightmare when she returns to her childhood home in Darlan, Kentucky. Her uncle is missing and there is the hint that drug trafficking has invaded the area. Heroin apparently has the county of Darlan in a stronghold and the local sheriff's office appears to be involved in these illegal activities. Suddenly, Jamie realizes that the only person that she can trust is Gavin Dalton, the man that she loved but lost when her father was convicted of killing his father.
Murder--Drugs--Crooked Cops--Southern Mafia. Author Mary Alford has created a story filled with twists, turns, adventure, danger and a mystery that has consumed Jamie's life for the past ten years. It is also the story of a love that never really died and two people who possess a deep faith in God and a strong belief in prayer. There are many times when it appears that they have no hope of survival but Gavin and Jamie continue to trust that God is with them. In one instance, after Jamie has prayed, she is immediately comforted because "With the prayer, a sense of peace slipped deep inside her. God was in control. He wouldn't let the them die; she truly believed that."
Grave Peril is an exciting story and I recommend it to anyone who enjoys Christian romantic suspense.
I received a digital copy of this book but my review is voluntary and these opinions are my own.
View all my reviews