Bible Description:
Standing apart from all other KJV study Bibles on the market, the King James Study Bible, Full Color Edition is the only Bible featuring extensive commentary, doctrinal notes, archaeological insights, and time-tested study aids developed exclusively for the King James Version. Now available with stunning full-color designs, Holy Land images, classic works of art, charts, and maps, the King James Study Bible, Full Color Edition guides you through the vivid beauty and authority of God's Word as you grow in your biblical knowledge.
For over a quarter of a century, Thomas Nelson has earned the trust of millions with the best-selling King James Study Bible, offering the standard of conservative KJV scholarship. Our tradition and commitment to KJV study continues with the release of the King James Study Bible, Full Color Edition.
Features include: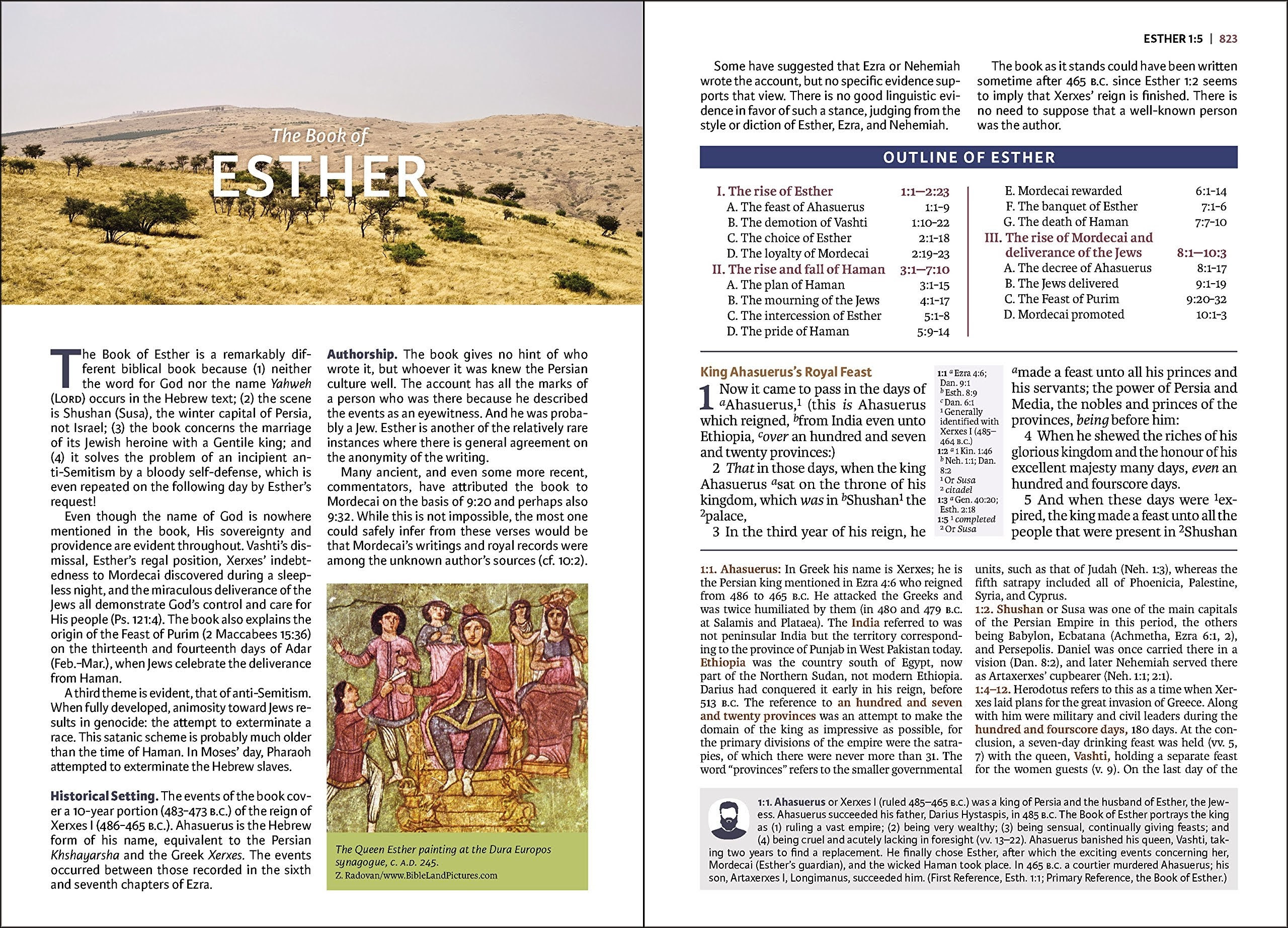 Beautiful full-color throughout
Easy-to-read 10-pt type large print
5,700 authoritative and study notes
Center-column references with translation notes
Hundreds of color maps and charts
Over 100 archaeological notes
Over 100 personality profiles
Over 200 notes on Christian doctrines
Easy-to-navigate topical indexes
Book introductions and outlines
Word-study concordance
Time-honored KJV Bible text
Learn more and purchase the Bible here: https://www.thomasnelsonbibles.com/kjv-study-bible/
Learn more by watching this YouTube Trailer
MY THOUGHTS.....
This is an exceptional Bible! It's beautiful in appearance, easy to use, and it has many extra features that other Bibles don't have. The soft leather bound cover, good-size font, and the ability to lay it flat add to its appeal but the contents are what make it so special. There are colored pictures, colored maps, red letters to denote the words of Christ, several indexes, and a
Concordance with Word Studies
. My favorite feature, however, is the
Topical Index to Christ and the Gospels
to answer all of your questions about the Son of God!
This
King James Study Bible
is one of the nicest Bibles that I've seen and I certainly recommend it to anyone wanting to purchase a new Bible. It's the perfect addition for personal devotion time and it's also great for gift giving!
I received a copy of this Bible through FrontGate Media. A positive review wasn't required and these are my own thoughts.
My rating:
5 of 5 stars
Click on the picture below